The name Mantecados FELIPE II is not the result of an arbitrary commercial decision. The origin of this unique jewel of Spanish confectionery possibly dates back to the time of the Reconquest, before the discovery of the Americas.
There are literary references and traditions that very possibly indicate that this mantecado was the succulent delicacy offered on a special occasion by the Count of Benavente to his Lord Don Felipe (Philip) II, "The most famous King of Spain" and his august wife Isabel of Valois (the Great Love of Felipe II).
This distinctive sweet from our Golden Age's varied confectionery, made from wheat flour, icing sugar, lard, [in Spanish "manteca"], which gives it the name of "mantecado" , and Marcona almond flour, was handmade in small blocks. Over time, the size of the mantecado was reduced and it was wrapped in tissue paper.
That is how it was presented, already at the dawn of the twentieth century, at the 1903 Madrid International Exhibition It was there that it received the highly prized "Gold Medal" award together with a First-Class Diploma of Honour.
It is the only time that a mantecado from Spain has received such a prestigious award.
Since 1909, Mantecados Felipe II has been the first and oldest mantecado registered® at the Spanish Patent and Trademark office of the Ministry of Industry, Commerce and Tourism.
In his 1944 book "Felipe II en El Escorial" [Philip II in El Escorial], José María Peman, member of the Royal Academy of the Spanish Language, defined this "flagship" of pastries as the "apotheosis of confectionery".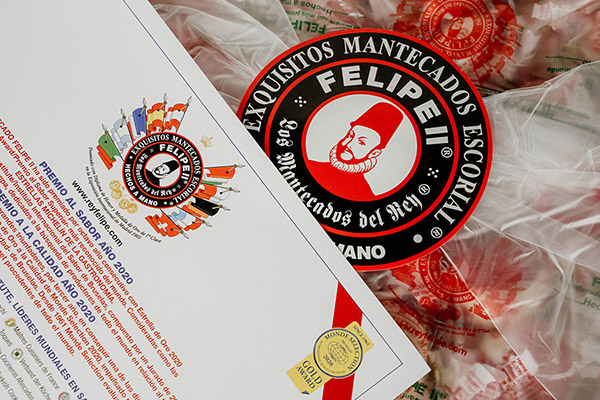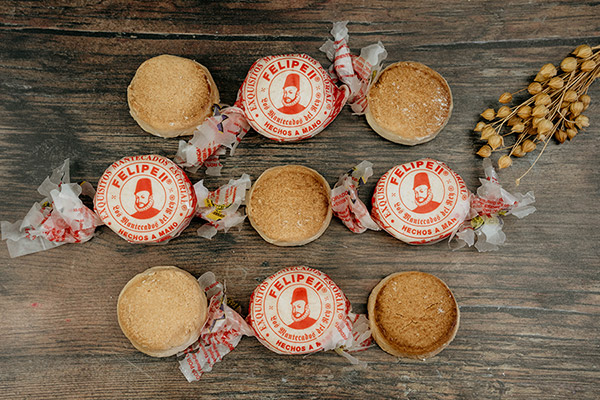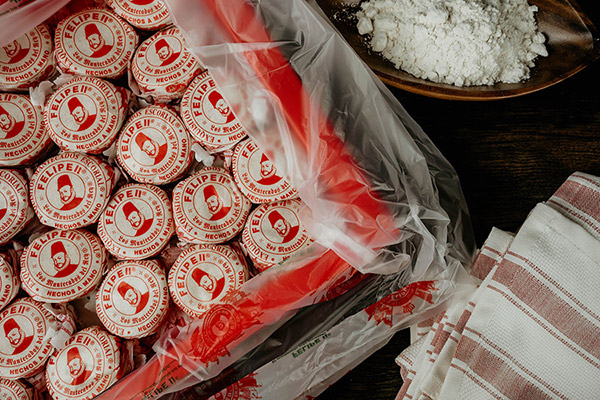 In recent years, CONFITERÍA BLANCANIEVES TEJEDOR, artisan confectioner and manufacturer of Mantecados FELIPE II, has been awarded Gold Medals, Stars, Trophies, Prizes and Honorary Diplomas received in: Madrid (Spain), Lisbon (Portugal), Geneva (Switzerland), Paris (France), Warsaw (Poland), Buenos Aires (Argentina), Mexico City (Mexico), Amsterdam (Netherlands), Vienna (Austria), Brussels (Belgium), Valletta (Malta), Rome (Italy) and Munich (Germany).
The following distinctions deserve special mention:
Leader in Quality Trophy 2000
International Master Award of Companies for its High Quality in the Elaboration of its products 2000
International Award for Prestige and Quality 2003
Gold Medal for Quality based on opinion polls among consumers 2003
International Business Award for Product Quality 2004.
International Master in the category of GOLD for an Artisan Product 2009.
International Gastronomy Trophy 2010.
Golden Eagle, international quality trophy Europe 2011.
Monde Selection Gold Awards in 2017, 2019, 2020, 2021, 2022 and 2023.
Gold in the SUPERIOR TASTE AWARDS que otorga El International Taste & Quality Institute granted by International Taste & Quality Institute in Brussels (considered the Michelin Guide to Food) in 2013, 2014, 2015, 2016, 2017, 2018, 2019, 2020, 2021, 2022 and 2023.
The sun did not set during his Empire, and we can say the same about Mantecados FELIPE II, since this Spanish confectionery delicacy is widely enjoyed all over the world. We can therefore conclude that even after centuries, Mantecados FELIPE II is still the most renowned and highly desired confectionery of its kind.
artisanal production, faithfully preserved generation after generation, has earned them the highest honours, making them a privilege and a legend.